Dawn Johnson
Awarded $15,000 Through the Live Your Dream Award.
Dawn Johnson survived sexual and domestic abuse, and now is striving to live her dreams with the help of Soroptimist's Live Your Dream Awards.
When people talk about someone "not being dealt the best hand" in life, they are talking about Dawn.
At age 11, she entered the foster care system after enduring physical, emotional, and sexual abuse at home.
At 12, she was introduced to prostitution and began using crack cocaine (as is often the case for girls who were sexually abused). She would later become addicted.
At 13, a court ordered her to take part in a drug treatment program. She attempted suicide for the first time, and would later make three more attempts.
At 16, she had a child.
A Living Nightmare
After she became a mother, Dawn got her life back on track for a time, but things took a turn for the worse when she ran away to Saskatchewan to live with her daughter's father. She describes him as "an abusive alcoholic," and says this time together proved to be "a living nightmare." In the midst of a horrible argument one night, the police took her from their home, and took custody of their daughter.
That, Dawn says, was her wake-up call. "I knew I had to make some major changes in my life," she says.
What keeps me motivated in my career is the whole power of advocacy and being able to be a voice for people who haven't discovered their voice yet... for a long time, I was that person. I can get up and go to work every day and know that I'm going in with a completely open mind and an open heart and I'm going to hear everything that they have to say.

Dawn Johnson, Live Your Dream Awards Recipient
A New Start
She returned to school. She sought help for her addictions. She was diagnosed with post-traumatic stress disorder brought on by years of abuse. Gradually, with counseling and support, she began to heal.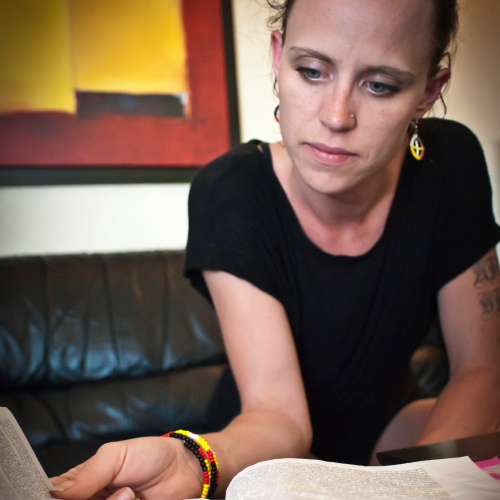 Her daughter was returned to her care within a year. An agency that had helped Dawn asked if she'd like to become a peer mentor. Through that position, she discovered her passion for working with young people. Although she had dropped out of school in the 8th grade, she completed her coursework and earned a diploma in child and youth care. She also became involved in several youth advocacy groups.
Today she is raising her daughter, now in the 6th grade, and her 5-year-old niece, whom she began caring for less than a year ago when her brother died.
The advice I give my girls is that you need to believe in yourself, that you're capable of anything!

Dawn Johnson, Live Your Dream Awards Recipient
Dawn's Live Your Dream Award is helping to relieve some of the financial pressure she feels raising two girls by herself. It will also help her continue her education. She is currently studying for a bachelor's degree in child and youth care and plans to eventually pursue a law degree next.
"Continuing with a law degree will give me the education and legal understanding to further advocate for those I work with," she says. "I take pride in being a strong and independent woman," Dawn adds, "but I have learned how to ask for help. This award is a huge help for my family and my future."
LiveYourDream.org relies on the generosity of individuals like you to improve the lives of women like Dawn. Your support gives women the help they need to overcome obstacles—like poverty, domestic and sexual violence, and addiction—and follow their education dreams.
Please consider donating. Your gift of $100, $50, or even $10 today will go a long way and will transform the lives of women in need!


Donate Today
Fundraise