Christina Valadez
Awarded $16,000 Through the Live Your Dream Award.
Working toward a degree in nursing, a profession she chose since it will allow her to help others.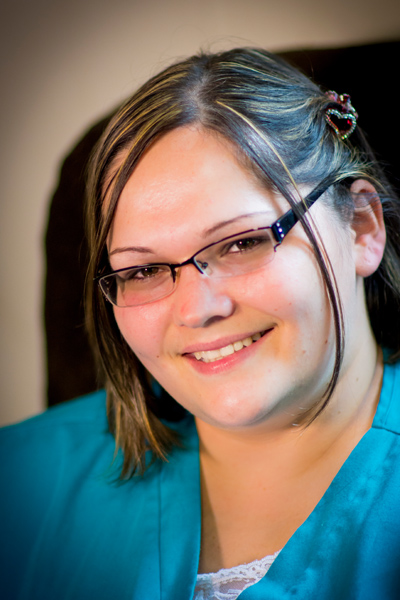 Christina Valadez of Battle Creek, Michigan, endured a difficult and misguided childhood. The daughter of a migrant worker, she and her three siblings moved frequently so their father could find work. She recalls living with her family in harsh conditions, often being crammed into one-room shacks, without enough food.
When she was three-years-old, her parents divorced and she continued to live with her siblings and father. During that time, she suffered physical, sexual and emotional abuse and neglect at the hands of her father and other family members.
After attempting suicide when she was just 13, Christina went to live with her mother. But instead of a fresh start, her nightmare continued. Her mother was addicted to drugs and had turned to prostitution. She exposed Christina and her siblings to an unhealthy lifestyle - one filled with alcohol, drugs and sex - and was unable to parent the children safely.
Enough is Enough
At 16, Christina decided enough was enough. She moved in with a friend, working two jobs to pay rent while still going to high school. At 17, a year earlier than expected, she graduated and took on the major responsibility of caring for her younger siblings and ensuring their safety.
"Throughout the chaos of my childhood, I met people who showed me that I could have a different lifestyle than I lived," says Christina. "I saw different aspects of life on television and had friends who couldn't believe the experiences I'd been through. I knew I didn't want my siblings or my children living the life I lived, so I decided to make changes to better my life."
A Turning Point
In 2001, Christina enrolled in college. But after three semesters, she regrettably had to drop out because of an abusive relationship with a boyfriend. She eventually got up the courage to leave him. By that point she had four children of her own, who she was struggling to support while continuing to help her other siblings. Life was extremely difficult and just when it didn't seem that things could get worse, her daughter was molested. Christina then came to a turning point. She sought counseling to help her cope with her own childhood abuse and concerns over her children's safety.
Working one full-time and two part-time jobs, she faces many challenges raising her children all on her own. She wanted to be a better parent, and decided to go back and finish what she had started 10 years earlier. Christina enrolled at Kellogg Community College and began to make some hard changes in her life. She started using stronger parenting skills, and ending unhealthy relationships, including those with family and friends.
"We don't have a reliable car or live in a safe neighborhood. But I do everything in my power to make sure my children are involved with after-school activities, and I hold high expectations for all of them academically. I am involved with their teachers, and help them with their homework and projects," she said. "This is important to me, since I never had anyone in my life who cared about these things. My kids always come first."
Attaining a Degree to Help Others
Christina is currently working toward a degree in nursing, a profession she has chosen because it will allow her to help others.
When my brother was little he had a brain tumor and spent a lot of time in the hospital, The nurses were always so nice to him and took such good care of him. I knew I wanted to be like them and help people feel better.

Christina Valadez, Live Your Dream Awards Recipient
Despite her many struggles at home and work, she has maintained an impressive 3.76 GPA. In recognition of her course work, her chemistry teacher recommended her for a peer tutoring position, which she started in 2012.
Christina was selected as a 2014 Live Your Dream Award at-large recipient, for which she received $1,000 from Soroptimist. She went on to receive Soroptimist's Midwestern Region award for $5,000, and was ultimately selected as one of the organization's three overall finalists, bringing her total award to $16,000.
"The [Live Your Dream Award] will help me in many ways," says Christina. "It will give me security that I'm not going further into debt while trying to prosper. I will use the award to further my education, and provide safer transportation and living conditions for my family."
Looking Towards the Future
I know I'm doing alright.

Christina Valadez, Live Your Dream Awards Recipient
Christina often wonders, as mothers do, if she is doing enough for her children. "Am I spending enough time with them? Am I teaching them the right things? Being a parent is hard because I'm all alone and I didn't have anyone who showed me the right way to do this," she said. "But my daughter tells me she appreciates everything I do for them and how lucky she is because she sees her friends going without. And my son tells me I'm the best mom ever. And I know I'm doing alright."
LiveYourDream.org relies on the generosity of individuals like you to improve the lives of women like Christina. Your support gives women the help they need to overcome obstacles—like poverty, domestic and sexual violence, and addiction—and follow their education dreams.
Please consider donating. Your gift of $100, $50, or even $10 today will go a long way and will transform the lives of women in need!


Donate Today
Fundraise