Opportunity Through Education
Share the Facts
The Problem
Without access to education, women do not have the resources to overcome the effects of poverty, sexual and domestic violence, and other barriers to living their dreams.
The Solution
Change begins with knowledge—it must be widely known that women's education is they key to ending gender-based violence and inequalities.
How You Can Help
Raise awareness by posting facts about the importance of women's education on social media!
Share the Facts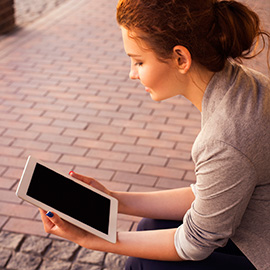 You'll Get:
"Education: Lifting Women & Girls Out of Poverty" infographic

Factoids that can be easily shared

on Facebook and Twitter
Extraordinary Stories
From Abused to Empowered
Dawn Johnson
Awarded $15,000 in Educational Grants
Dawn Johnson survived sexual and domestic abuse, and now is striving to live her dreams with the help of Soroptimist's Live Your Dream Awards.
Read Her Full Story