Your Dream
Welcome to your oasis: a personal space made especially for you including inspired reading, words of w
isdom, quick tips and fun bits to keep you smiling as you aspire to live your own dreams.
We are so happy to have you here, supporting an online community dedicated to helping women and girls live their dreams; but we know all too well that in order to help others, we must take care of ourselves.
Together we'll cultivate healthy choices and smart habits to nurture your mind, body and soul and help you feel empowered to lead a balanced, fulfilled life. You truly deserve it!
The views expressed in the following blogs or articles aren't necessarily representative of Live Your Dream.org or Soroptimist positions or opinions. Interested in having your blog featured or contributing original content and/or articles for this section? Contact us at: info@liveyourdream.org.
InspiREAD: 12 Ways to Practice Gratitude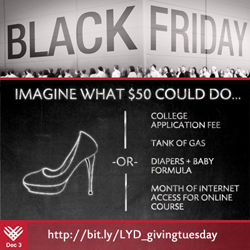 Give Back.
After Black Friday and Cyber Monday comes the most bountiful day of all: #Giving Tuesday. This year, we raised close to $5,000 on Tuesday, December 3, thanks to your generosity!
As you shop for the holidays, buying gifts here and there, remember to also think about charitable organizations when spreading holiday cheer. A donation to LiveYourDream.org on any day ensures more women and girls have the resources and opportunities to reach their full potential and live their dreams.
Thank you for making us a part of your #GivingTuesday! Let's show how much good we can do when we unite to give back and improve the lives of women and girls around the world. #GivingEveryday
 
Give Thanks.
In addition to shopping for holiday gifts, this is the time of year we often reflect on what we're thankful for and what makes us happy. This act of gratitude puts things into perspective. It helps us realize what we have and what we deem most important.
Check out our Live Your Dream Gratitude Board for the inspiration to help you feel joyful, loved, stress-free and most importantly, to help you live the best life possible. A little gratitude goes a long way. So pin your favorite quotes and share them with your friends!
Check out other inspired reading in these sections: