Your Dream
Welcome to your personal Dream oasis: a space tailored especially for you, one that features inspired reading, words of w
isdom, quick tips and fun bits to keep you smiling as you aspire to live your own dreams.
We are so happy to have you here, supporting an online community dedicated to helping women and girls live their dreams because we know all too well that in order to help others, we must take care of ourselves. You truly deserve it!
As you enjoy our site, please remember that the views expressed in the following blogs or articles aren't necessarily representative of Live Your Dream.org or Soroptimist.
Interested in having your blog featured or contributing original content for this section? We welcome guest bloggers, book excerpts and feature articles. Read all about our program here. For more, please contact us at: info@liveyourdream.org.
Keeping Our Girls Safe – Challenging Rape Culture on College Campuses
By Darlene Friedman, Soroptimist International of the Americas
| | |
| --- | --- |
| | Darlene is the Senior Director of Membership & Marketing for Soroptimist International of the Americas; a devoted mom to her college-bound daughter, Eden; a dog-lover, especially her own little rascals, Dobo and Drizzle; and passionate about ensuring all women and girls live free from violence. |
I was profoundly shaped by the women's movement. I believe in equality between the sexes and understand all too well that it does not exist. I make my living working for an international organization that helps women and girls live empowered lives. I married a man who believes in feminism for the same reasons I do, and we have raised our daughter, Eden, with this worldview as well.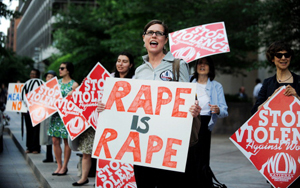 Eden's dad and I have always stressed the importance of women being able to earn a living. We've told her she must be able to take care of herself and her future children because life doesn't always turn out the way you plan. She's a science and math girl who plans on becoming an engineer—a field where women continue to be underrepresented. And, according to a new study of women in the sciences, 2/3 of those surveyed reported being sexually harassed or assaulted.
We have done our best to prepare her when she heads off to college in two short years, but our anxiety has only increased with the recent release of the White House report on sexual assault on college campuses.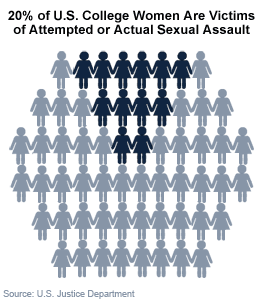 One in five women will be sexually assaulted during their time in college, usually by someone they know.
Most won't report it for fear of victim blaming, retribution, or because they are embarrassed or feel guilty. Many find it difficult to continue their education. Given our sexualized culture of disrespect, the report didn't particularly shock me. What did surprise me is the lengths to which universities have gone to cover up their problem and protect the guilty parties (often high ranking athletes). That is unconscionable.
So what can we do to further prepare our daughter?
• Continue to relay fundamental safety information: Use common sense. Don't go out alone. Don't leave a party or bar with someone you don't know, avoid situations where a lot of drinking is occurring and never leave a drink unattended. Trust your intuition: if it doesn't feel right, don't do it.
• Research potential college choices to determine their handling of sexual assaults.
• Encourage our daughters and sons to create a campus culture where women are valued and protected.
• Use our power as donors, or would-be donors, to demand accountability.
• Hold college administrations responsible for creating clear and simple processes to address sexual violence and protect women on their campuses.
These two years are going to fly by, and then it will be time to push our baby from the nest. We will keep our fingers crossed and pray our girl has a safe and happy college experience.
TAke action
ACT NOW: End Sexual Assault on College Campuses!


Encourage college administrators to comply with investigations, create clear and simple processes to address sexual violence, and ensure proper training of leadership within their campus communities to protect students. Sign and share today!

GOAL = 5,000 Signatures
Check out other inspired reading in these sections: